Daily active in all logistic and forwarding services, such as acceptance and delivery of the cargo, stuffing/unstuffing, packing, custom clearance, cargo insurance and pre/post carriage as well as shipping arrangement overseas. Within such activities, every kind of consulting and auxiliary services are offered.
Logistic services in general as from ex works to door delivery are arranged at best possible conditions; transport terms from purchasing contract are enough to propose and perform the transport, thus saving the time to the client and avoiding all worries about, but at the same time informing him about daily situation development.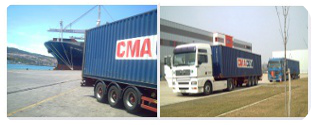 Inland haulage
Trucking and railway transport is carried out by reliable subcontractors from port of Koper to any destination within Central Europe, in connection to the sea or air or just between two inland places. Particulary performant in container traffic, with urgent deliveries and similar.
Central Europe means Slovenia, Hungary, Slovakia, Austria, Croatia, Serbia, Nord Romania or elsewhere.
Inland haulage overseas can as well be carried out using our correspondents, with our strict control.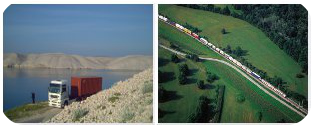 Seafreight
Good relations to all main carriers allow to find the best possible carrier on the particular line, in the sense of pricing as well as transit time.
Clearance at the port of Koper is done at very convenient conditions, while bookings are done for export as well as overseas for import cargo, including FCL and LCL, to / from any destination worldwide.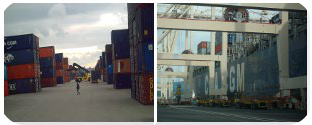 Airfreight
Organising airfreight for any kind of cargoes, including all activities related to import/export through airport BRNIK ( Ljubljana), Slovenia.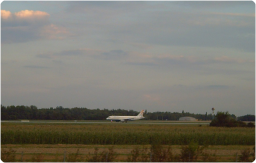 Special transport
For cargoes of extra weight and big dimensions transport (OOG cargoes) is organised by land as by sea, including all activities connected (road permits, custom clearance, booking, lashing /unlashing e.t.c.)
Long lasting experience of handling such cargoes is helping us to avoid many problems which may arise in time.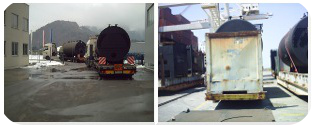 Other services
Some of services offered separately or included in the offer, depending on terms:
• warehousing in custom bonded warehouse,
• reloading manipulations,
• packing, paletising, marking or otherwise conditioning of the cargo,
• custom clearance,
• cargo insurance,
• consulting.